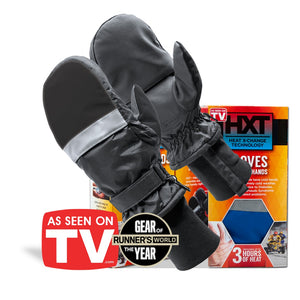 HeatXChange Technologies
Marathon Mitten - Black
Sale price Price $90.00 Regular price $90.00 Unit price / per
HOLIDAY SALE! Use code: HOLIDAY25 to save 25% on all products + get FREE Shipping!
Water resistant nylon outer with "Soft Touch" 100% polyester fleece lining. 3 heat chambers for total hand warmth. Extra long cuff to trap heat inside of the glove. Reflective 3m patch designed for extra visibility.  Nose wipes available on both thumbs.
The Original Award Winning HXT Mitten with Patent Pending HXT External heat
3 heat chambers per glove
Use with gel packs. Microwave and experience up to 3 Hours of heat
Use with disposable packs and experience up to 6 hours of heat
The "Marathon" contains patent pending re-heat-able HXT technology. 100 grams of Thinsulate Platinum insulation. Which offers increased warmth even on the coldest days. Just pop the gloves in the microwave and enjoy up to 3 hours of warmth. Perfect for all outdoor sports and leisure activities or for extra comfort while just watching TV. HXT, "Warm Hands…..All the time" !

All orders processed within 48 business hours.      
Terrific "dog" walking gloves too.
I've been using my gloves faithfully and they are terrific. Here are my thoughts. With the proper fit (small/med compared to the size large I originally tested) the glove weight doesn't bother me at all. The amount of reflective material is a bonus– so much that I feel comfortable not wearing a neon jacket With the extra pull tag/length of the gloves my wrists are never exposed. I love this feature. These are terrific "dog" walking gloves too.